CUSTOMER BUILDS
This page shows some of the customers that have sent us pictures back of their projects. Some are complete, some are not but we all know that perfection takes time and "life" sometimes gets in the way. As of January 2017 we have sold over 250 engines to home mechanics, fabricators, and professional shops. If there is personal info listed feel free to contact the owner it you have questions about their project. Enjoy!!!
Ed Anders 1947 Cadillac. 5.3L / Z06 Engine
2015 goatbuilt chassis with BD 6.0 LQ4! I'll buy a motor from you before anybody else! I beat the heck out of this thing and zero issues from the heart!
Chris Ashton - FlatBlack Fabrications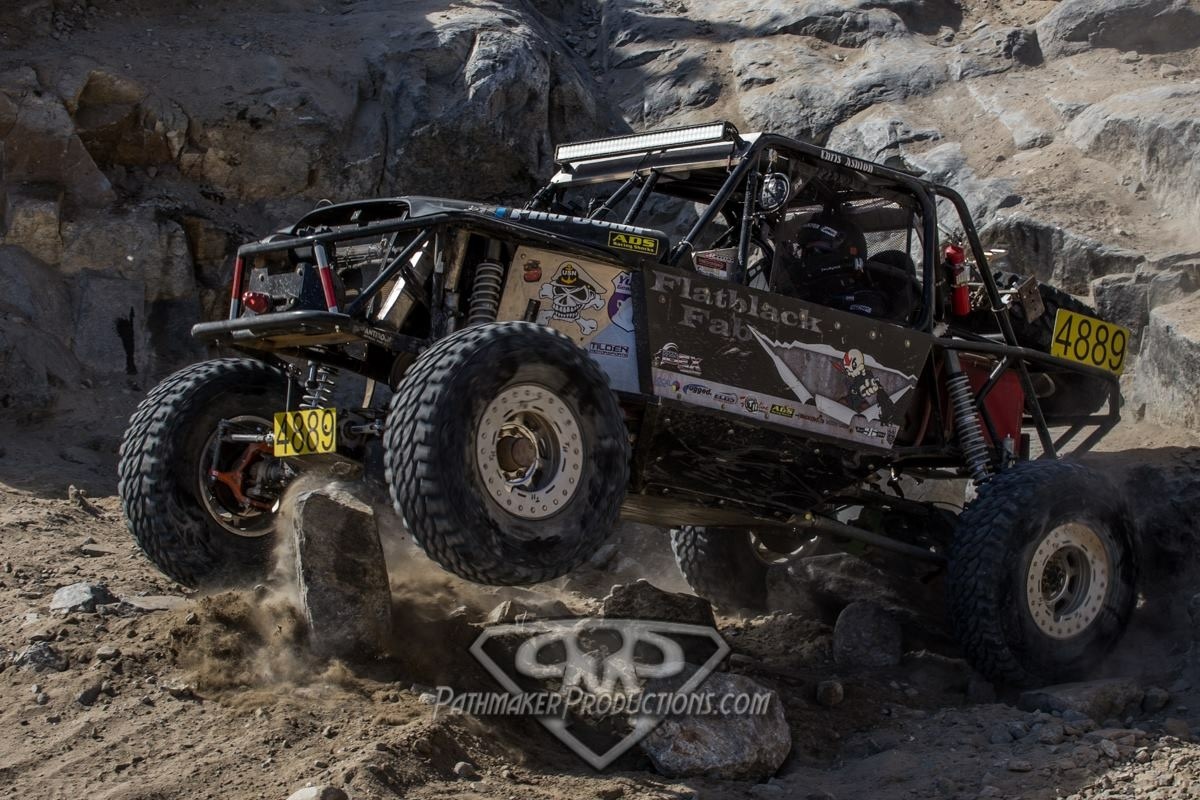 Bryan Jerginson - 1955 Chevy
This is Thomas from Bangalore, India.
I had purchased an LM7 engine package from your shop in 2012!! I have been running my rig for close to two years now and have participated in two seasons of the Rain Forest Challenge India placing first runner up in the 2017 edition in our category. V8 based rigs are very few in India and the vehicle and engine sound draws attention and admiration every time I take the rig out.
I am very happy with the engine and thought I would drop you a line to show my appreciation and share some pictures of my rig.
1966 International Travelall 2WD, 4L60, Cruise Control
Nick Amthauer, Mt. Vernon IA.
1980 Blazer, 2WD, Cruise Control, A/C
Ken Lafortune
"Just wanted to drop a line and say thanks. Finally got the little 5.3 installed and fired her up for the first time over the weekend. Thanks for everything and Im sure Ill be ordering at least one more in the future."
1968 Wagon
Ikhwan mahyuddin - mesinv8_indonesia@yahoo.com
1970 C10 with full Porterbuilt suspension, Accuair air management, BD motor, Monster transmissions 4L65e and a set of 20x8 Detroit steel wheels. I've owned the truck over 20 years and finally decided to do what I've always wanted to do with it and chopped it up this winter. Should be a driver for the summer and will get painted next winter.
Buddy Miller, Kent Wa. email: bmfm64@yahoo.com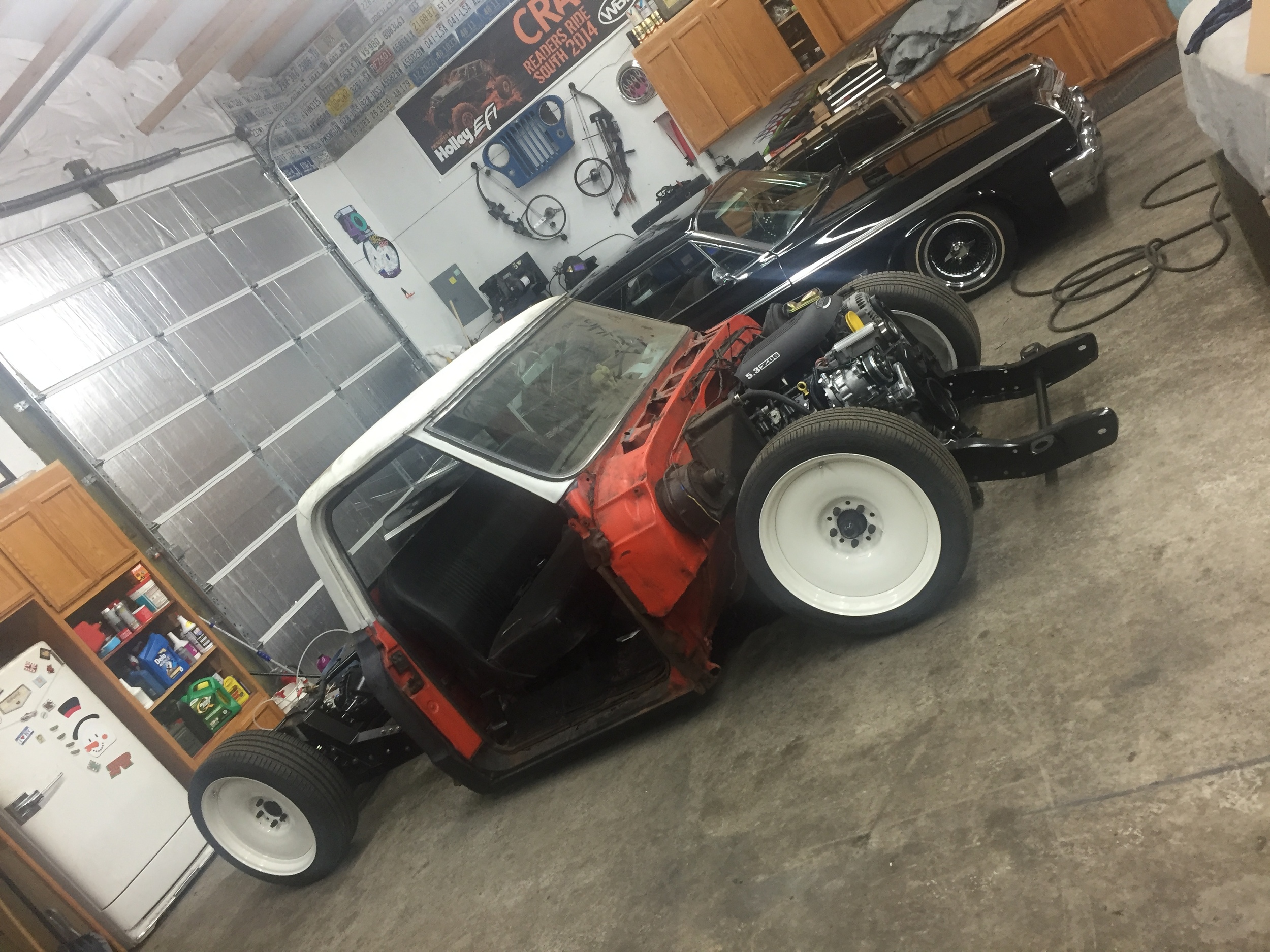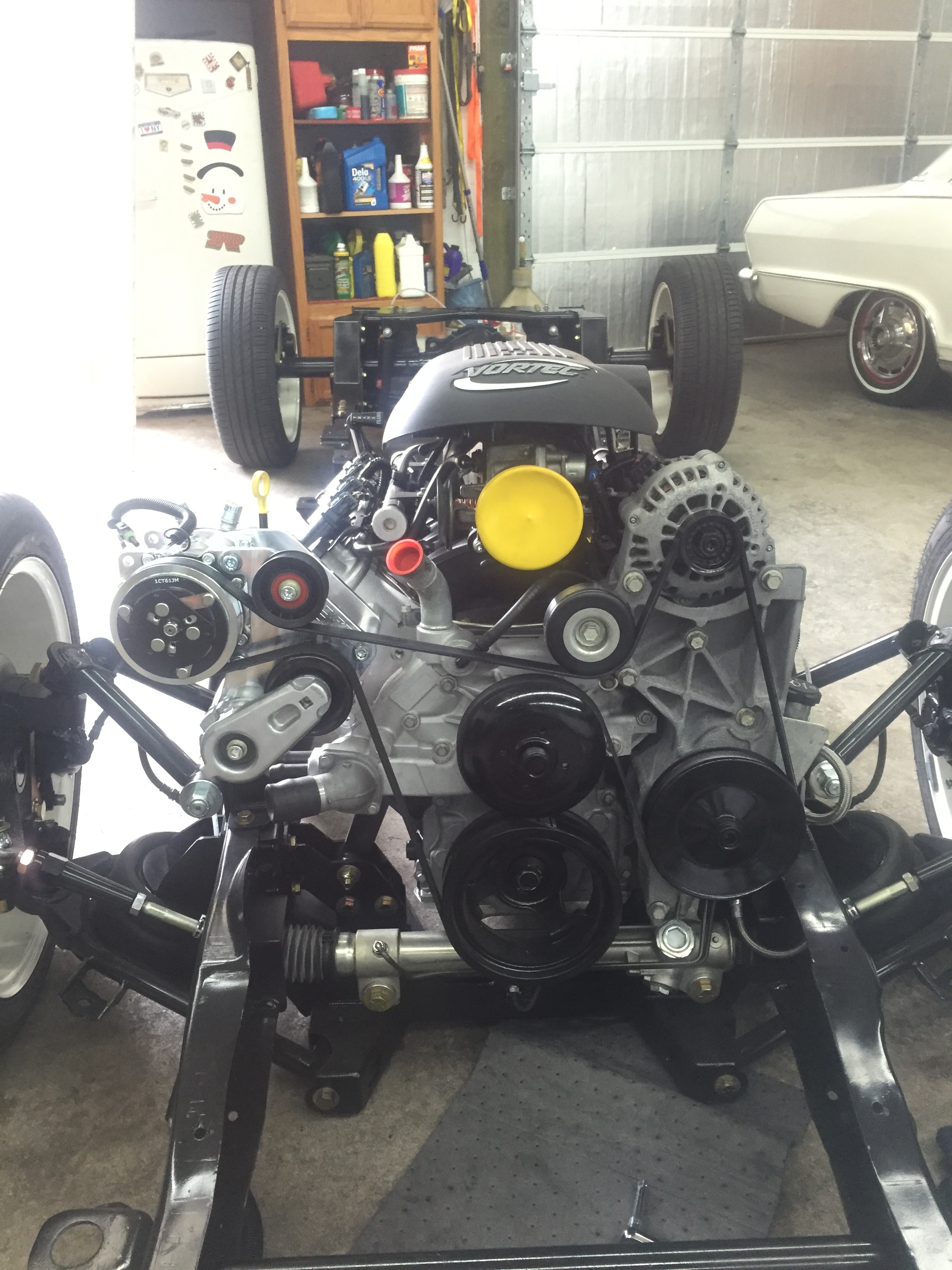 1956 Ford F100. Truck should be completely painted by the end of this next week. It has 1985 corvette front and rear suspension with the discs front and rear and brake booster works great. The brackets and crossmember for the suspension are from Flat Out Engineering. 85 power steering rack hooks up to the power steering pump on the 5.3 litre nicely. The engine mounts are 2x2 square tubing with 1/4 plate and the chevy shackles.
Jim Bast 306-570-3320 Canada. email: jimbast@msn.com
Brad Erickson - Suzuki Samurai
1970 Chevy c10 4x4. BD 6.0, 4l80E, 205, 60 front with powr lok, 14 bolt rear with Detroit 4:56, 6 inch lift, 315/75r16 on 16x8, fuel tank behind rear axle. Removed carbed 350 and th400 for current setup. Combo works great and Picked up tons of power and mpg.
Bryan Rohman. 559-679-007 bryanm.rohman@ yahoo.com.
1984 Chevy short bed. 4l60E with stock converter. Still have a few items to clean up, cruise, gauges, a/c, etc.
Gary Sparks - gsparks2007@gmail.com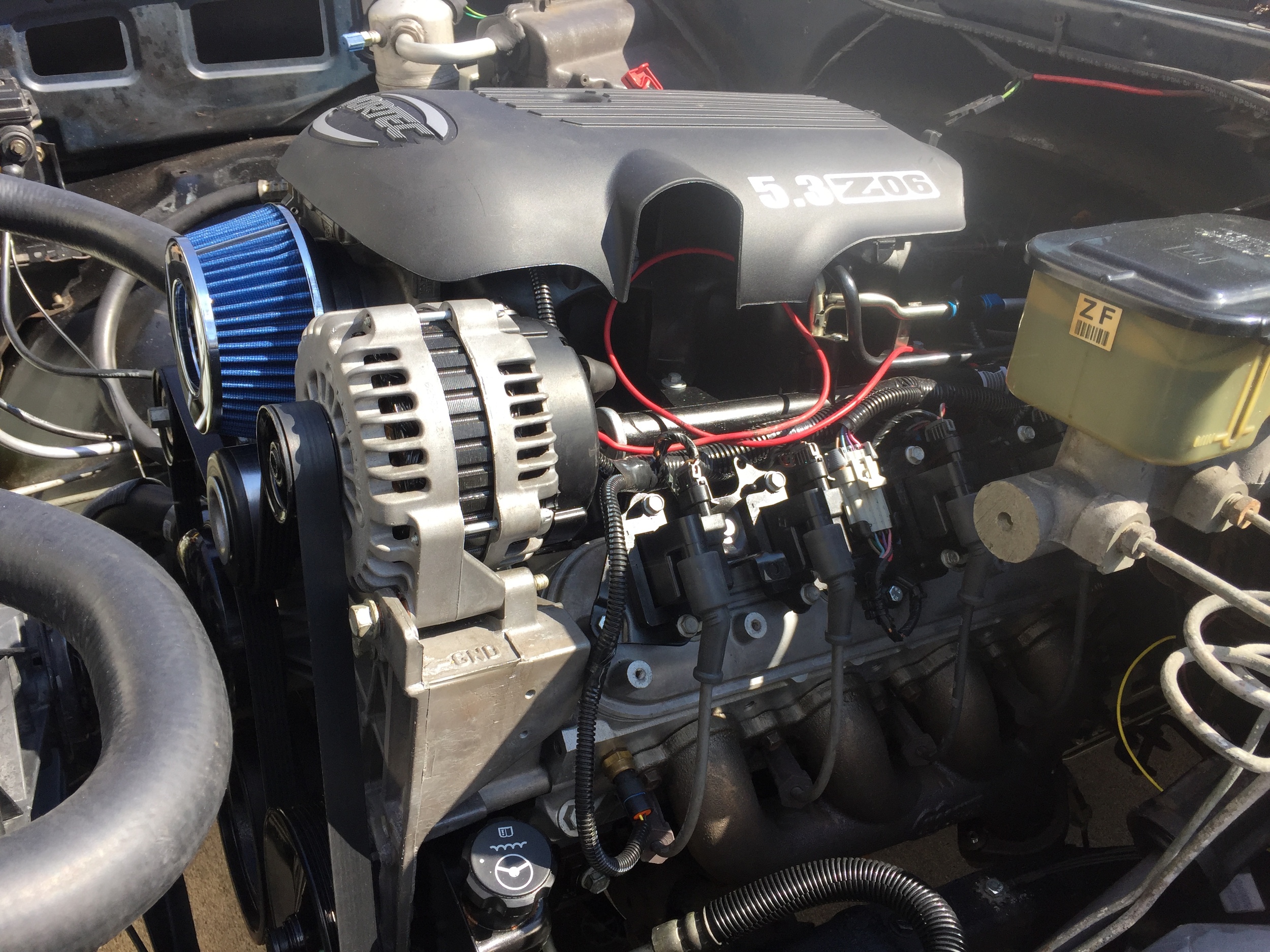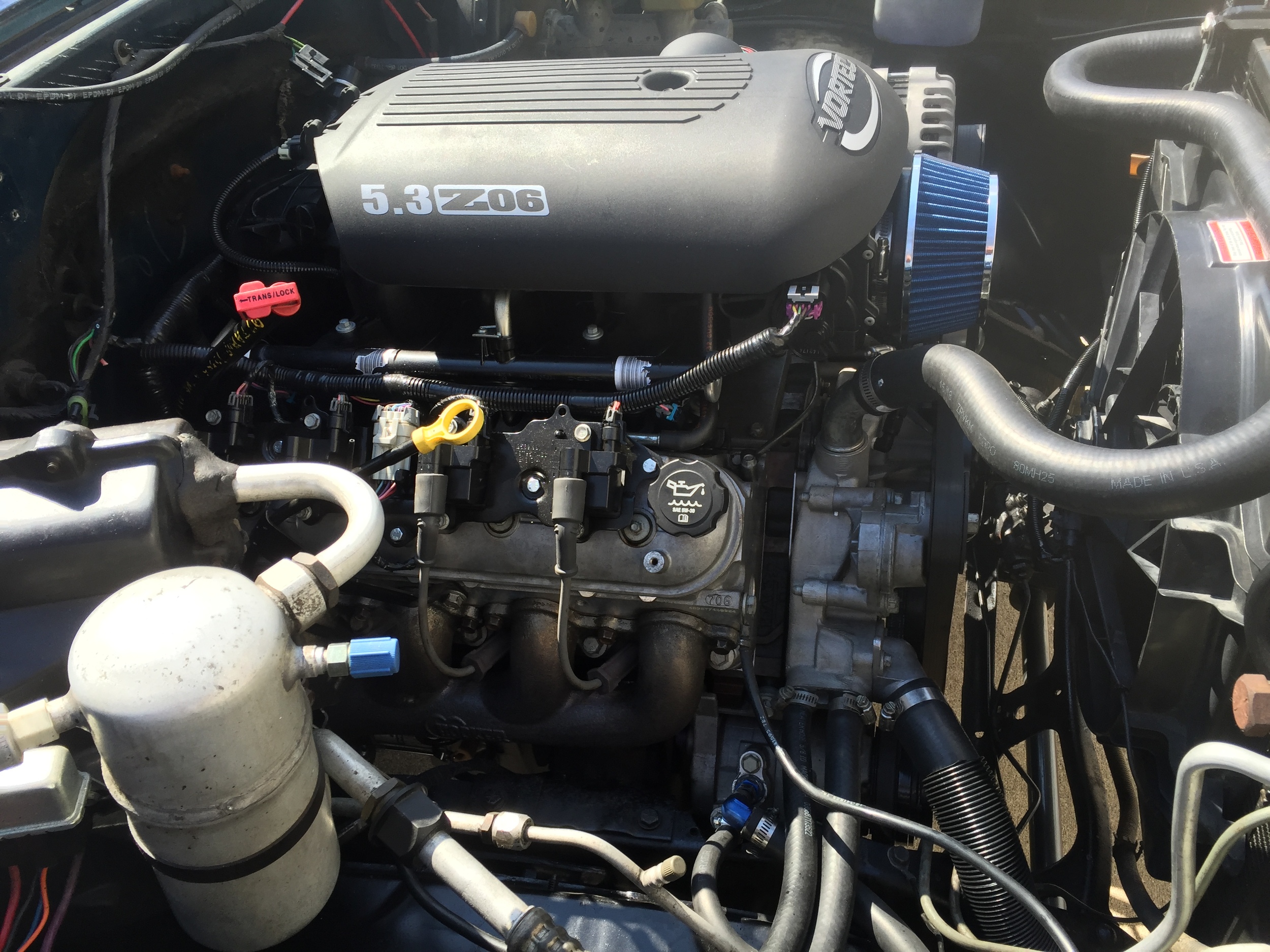 1989 K5 blazer with a 2006 dbw 5.3 engine. I decided to keep my existing turbo 400 transmission for the time being. The swap was very easy and straight forward with the general installation packet given when purchasing the engine.
Jonathan Blakeslee, Fairview Pennsylvania email: k204x4@aol.com